Ultraviolet Light: Applications in Architecture
October 2020
"I'd put my money on the sun and solar energy, what a source of power." - Thomas Edison, 1931
Were Thomas Edison, the Father of Invention, alive today, he would most likely be leading the pack on today's ultraviolet light research and development. For over 100 years, the sun has been known as a powerful germ killer and bleaching agent. In 1877, British researchers discovered that dirty test tubes could be sterilized by the natural disinfectant effects of the sun. By the 1930s, Harvard was using UV lighting in classrooms to cut the rate of measles infections among students.
Ultraviolet light can be used to kill viruses and bacteria in the air, on surfaces, and in water systems. This practice is known as Ultraviolet Germicidal Irradiation (UVGI). UVGI neutralizes microorganisms by damaging DNA and corrupting the genetic code; the same basic process by which the sun damages skin cells in humans. Hospitals have used ultraviolet light to disinfect surgical spaces for years. Sometimes germicidal UV light is distributed throughout large areas by robots. Smaller applications are done with the use of a wand. These applications, however, must be done when spaces are unoccupied due to the fact that excessive exposure to UV light can cause skin cancer and damage to the eyes.
Today, researchers are refocusing these efforts on combating the coronavirus. Recent research has discovered that there is a spectrum of UV light that can kill the coronavirus without harming humans. This UV light is a narrow slice of the spectrum known as Far-UVC, with wavelengths between 207nm and 220 nm. Dr. David Brenner, PhD and Director of Columbia University's Radiological Research Center, has been working on Far-UVC sterilization technology for five years.[1] After the conclusion of safety and efficacy testing and FDA approval, the biggest hurdle to widespread distribution is production. Manufacturers will have to ramp up production in order to meet the demand.
The implications of this new lighting technology are easy to imagine. Architects will soon be specifying this technology into hospitals, senior care centers, schools, arenas, theaters, airports, hospitality, restaurants, offices, and anywhere people gather indoors. Imagine Far-UVC lights with built-in motion sensors around building entryways. Architects have always known the importance of correct lighting for indoor space. Now architects will also be specifying lighting that not only illuminates space, but also keeps occupants safe from biological threats in the air and on surfaces.
In recent news we have learned that The Blind Horse Restaurant and Winery in Kohler, Wisconsin will become the first restaurant in the United States to install Far-UVC Lighting technology for real time mitigation of harmful pathogens and viruses. This sanitary lighting solution was developed by Healthe, Inc. in Melbourne, Florida. "The suite of safety protocols and technology that we are installing is extensive and unprecedented in our industry. We are pound to at the forefront in utilizing this technology in the restaurant and winery industry," said Thomas Nye, General Manager and Master Winemaker. The Blind Horse will install 18 ceiling-mounted, Healthe Space™ lights that produce a combination of general illumination and Far-UVC 222 sanitizing light to clean the air and surfaces. [2]
For additional information, see the following:
[1] Jackie Drees, Becker's Hospital Review (Ultraviolet Technology Shine New Light on Covid-19 Infection Prevention, April 10, 2020)
[2] Kate Kaminski, Press Release, October 13, 2020
---
The Role of Architects Amid the Coronavirus Pandemic
April 2020
Due to the coronavirus, senior care centers have closed their doors to visitors including family members of residents. Though this separation can be heartbreaking, infection control is paramount.
So, what is the role of architects amid the coronavirus pandemic? The American Institute of Architects has established a task force to address this question. The AIA task force will create a database to house a collection of their findings to be a resource for future pandemics. They will also address how to provide rapid-response for Alternative Care Sites (ACS) when healthcare facilities are overwhelmed.
(See AIA COVID-10 Task Force 1: Health Impact Briefing #1 April 6, 2020)
Architectural senior living and healthcare design professionals are also looking for ways to expand their ability to isolate infected individuals. The CDC recommends that residents infected with COVID-19 be placed in Airborne Infection Isolation Rooms (AIIR). These isolation rooms provide special care for individuals who fall under one or more of the following categories: residents with acute illnesses, disruptive residents, and residents who are terminally ill.
(See Facility Guidelines Institute for Health Care Facilities code A4.2-2.2.4.1)
In 2017, Montag Architects completed a project at Guthrie County Hospital that included a negative pressure isolation room to contain airborne contaminants. There are two types of isolation room to contain contaminants; negative pressure rooms and positive pressure rooms. Negative pressure isolation rooms isolate patients with infectious conditions. All air in negative pressure isolation rooms must be exhausted to the outside and not recirculated throughout the facility in order to protect everyone else in the facility from becoming ill. Positive pressure isolation rooms maintain a higher pressure inside and keep all contaminants away from the patient or resident. Contaminants from the surrounding environment are not allowed to enter the room. (Think "boy in the plastic bubble" with his compromised immune system.)
The state of Iowa does not currently require isolation rooms in skilled nursing facilities. However, codes are constantly changing and maybe this pandemic will change airborne isolation room codes once again.
---
Notes from the EFA Conference in Savannah, GA
July 2018
In April, Montag Architects attended our first Environments For Aging (EFA) conference in Savannah, Georgia. As stated by Debra Levin, President and CEO of The Center for Health Design, the goal of the EFA conference is "To bring together the myriad of stakeholders involved in creating a diverse collection on environments for seniors that promote healthy aging and maintain the dignity of their residents."
Our goal in attending the conference was to discover new trends in senior living and connect with and learn from this "myriad of stakeholders". We attended educational sessions on resident-centered regulatory improvements, post-occupancy evaluation reviews, the resident-centered approach to planning, design, and construction, environments for the generations, radical transformations - turning tired old buildings into "the place to be", and the IBC 2015 international Building Code and what it means for assisted living.
Top Three EFA Conference Takeaways
The Household Model Rules
I will never forget hearing my father say, "Don't you ever put me in a nursing home." When you think about that statement for a moment you begin to understand the fear and dread that many seniors feel at the prospect of having to move to such a place. You think about the long, sterile hallways very similar to a hospital, losing your independence, and the feeling of being isolated due to the lack of social interaction. The institutional approach with one large central dining room, repetition of corridors with room after room on both sides, and institutional finishes are being replaced with households which means smaller "neighborhoods" that create an atmosphere more like home. These households limit the number of residents in a group and generally accommodate between 10 – 18 people. Each has its own living room, dining room, and smaller kitchen that is accessible to residents just like at home in place of a huge commercial kitchen with no access. The household model gives residents a sense of ownership and control.
Though the household model is a more recent design development, we started implementing this model in 1997 at facilities like Heritage House in Atlantic, Iowa and Park Center in Newton, Iowa. Our goal was to give residents a better way to stretch their legs and interact with one another. Rather than taking a walk down a long corridor to stop, turn around and walk back, we created smaller neighborhoods so residents could walk in a circular pattern from one neighborhood or household to another.
The household model is not just about the physical structure of the building and creating smaller groups of people, it also includes a change in philosophy of care that empowers residents and ensures that seniors live with a sense of well-being. This means not being regimented by a strict schedule, rules, and boundaries, but giving resident more freedom to choose such things as wake up time, meal times and menus, showers, and activities.
In the household model there are also changes in how the staff interacts with residents. Certified nursing assistants are often referred to as partners who make sure the resident's needs and wishes are attended to. This facilitates the residents making choices and decisions for themselves. This shift in approach to caregiving helps to create meaningful relationships.
When I look at current trends, my guess is dad would have a different opinion of nursing homes were he alive today. Hopefully, due to this household model, feelings of dread at the prospect of having to move in are being replaced with a sense of optimism and excitement.
Assisted Living Can Be I-1 or I-2 Occupancy
This takeaway hits close to home as we recently completed conversion work for administrator, Shannon Minshall at Fleur Heights Care Center in Des Moines, Iowa. We provided a code review and a plan for the conversion of a Skilled I-2 (Institutional 2) occupancy space to an assisted living, dementia specific space.
Assisted living I-1 occupancy defined:
Condition 1: This occupancy condition shall include buildings in which all persons receiving custodial care who, without any assistance, are capable of responding to an emergency situation to complete building evacuation.
Condition 2: This occupancy condition shall include buildings housing any persons receiving custodial care who require limited verbal or physical assistance while responding to an emergency situation to complete building evacuation.
Assistance with evacuation can occur because of care recipient's physical or mental limitations or both. Assistance with evacuation would include assisting persons who may have resistance or confusion in response to an alarm.
Assisted living I-2 occupancy defined:
Institutional Group I-2 occupancy shall include buildings and structures used for medical care on a 24 hour basis for more than five persons who are incapable of self-preservation.
Advantages for classifying assisted living as I-2 include:
I-2 is inherently safe
I-2 provides more flexibility for common areas
I-2 does not require door closers
Memory care resident room doors can be left open
Provides more flexibility for aging in place
There is no prohibition from a code perspective on voluntarily upgrading assisted living use to a higher standard.
The Best is Not Yet to Come
The bottom line - housing options for the aged are the best they have ever been! Thankfully, that's true! There have never been more options available for seniors. From aging in place, to housing cooperatives, to the village concept, to independent living, continuing care retirement communities, to assisted living, to skilled nursing, the options are out there. The task then is look at your needs and budget to help narrow the housing option down to what works best for your situation.
---
Obesity and Architecture
March 2018
If you've been to your doctor's office, hospital, or medical clinic lately, you may have noticed a few new things in the waiting room; namely, large, oversized chairs that look like they might be love seats. These are bariatric chairs designed to support more than 300 pounds of evenly distributed weight. Good healthcare and skilled nursing design includes making sure that obese patients will maintain a sense of dignity during their visit. This means not having to struggle to get in and out of chairs and that bariatric seating blends in with the other furnishings in the room. This ensures bariatric individuals will feel comfortable physically and emotionally.
Skyrocketing Rates
Our nation's obesity epidemic is at an all-time high. The Centers for Disease Control and Prevention states that almost 40 percent of American adults and nearly 20 percent of adolescents are obese. This is the highest obesity rate ever recorded for the United States.
What is Obesity
The most commonly accepted method of identifying bariatric patients is the body mass index (BMI), a formula currently accepted by the U.S. Department of Health and Human Services (DHHS). According to the BMI, being overweight is defined as having a BMI of 25.0 to 29.9. Obesity is defined as having a BMI of 30 or higher. Morbid obesity is typically defined as being 100 pounds or more over the ideal body weight or having a BMI of 40 or higher. The BMI is a simple calculation of the height of an individual divided by his or her weight.
You may be wondering what this has to do with architecture. Here's the answer:
With the increased rate of obesity, architects must incorporate design solutions that not only accommodate obese individuals, but also minimize the risk of workplace injury to those caring for these patients. These accommodations include such things as wider doorways, additional space for larger, heavy-duty beds (the maximum weight a standard hospital bed can handle is 350 pounds), heavy-duty toilets, bariatric chairs, and the addition of lifts, which may be freestanding or mounted on the ceiling. Many obese patients have limited mobility, and may be unable to leave their bed without the help of a mechanical device. In new construction, architects must design the structural support with this lift equipment in mind.
Shortage of care available
Hospitals routinely discharge patients to skilled nursing centers for the final stages of their healing. For obese patients, finding a facility that will take them is extremely difficult. Many times, they are left stranded at the hospital.
We recently visited a senior living center that was built in the late 1960s. The administrator said that she gets at least 2 or 3 calls a day asking if they admit obese patients. She said she has to turn them away because they are unable to accommodate them. Many obese seniors find themselves turned away from nearby senior living facilities simply because that facility does not have the necessary equipment and staff to care for them.
Most skilled nursing and rehab centers are simply unprepared to care for the increasing number of morbidly heavy patients. They are lacking in adequate staff, equipment, and knowledge. They also lack the funds to provide care as accommodations for obesity are very costly. Many care facilities cannot afford to care for them as a mechanical lift (those with lift tracks on the ceiling) can cost up to $10,000 and extra-wide beds $5,000. Architects must design specially outfitted wings for these patients/residents.
Even though obesity rates in the United States are at an all-time high, there is good news. Based on an article by Scott Kahan, MD, MPH:
We now have a national dialogue on obesity. With this open dialogue come new treatments and how to mount an effective approach.
We recognize obesity as a serious health problem rather than a cosmetic issue.
There is easy access to more information about obesity and resources than ever before.
More primary care doctors are helping their patients implement strategies for weight loss.
The public and private sectors are on board. Governments, communities, schools, organizations, and even the food industry are working to address the policies, settings, contexts, and environments that set the stage for weight gain and obesity.
Significant research, advocacy, and policy discussions about weight bias are now occurring daily.
Read the entire article by Scott Kahan: http://scottkahan.com/is-obesity-a-public-health-achievement/
---
The Senior Living Spectrum
January 2018
The spectrum of care available to seniors can sometimes be confusing, leaving a person not knowing where to start. The outline below breaks down and defines the available options and ranges from adult day care to hospice. Understanding the terminology used for various types of care will help you make an informed decision.
Nursing facilities and assisted living facilities are considered "I" Occupancy (Insititutional Occupancy) buildings and are required, by the state of Iowa, to have architectural design drawings signed and sealed by a licensed Iowa architect.
Average costs listed below are for the state of Iowa and can be influenced by a number of variables. There are multiple resources available to assist you in finding the appropriate level of care. Sources for additional information are listed below the outline.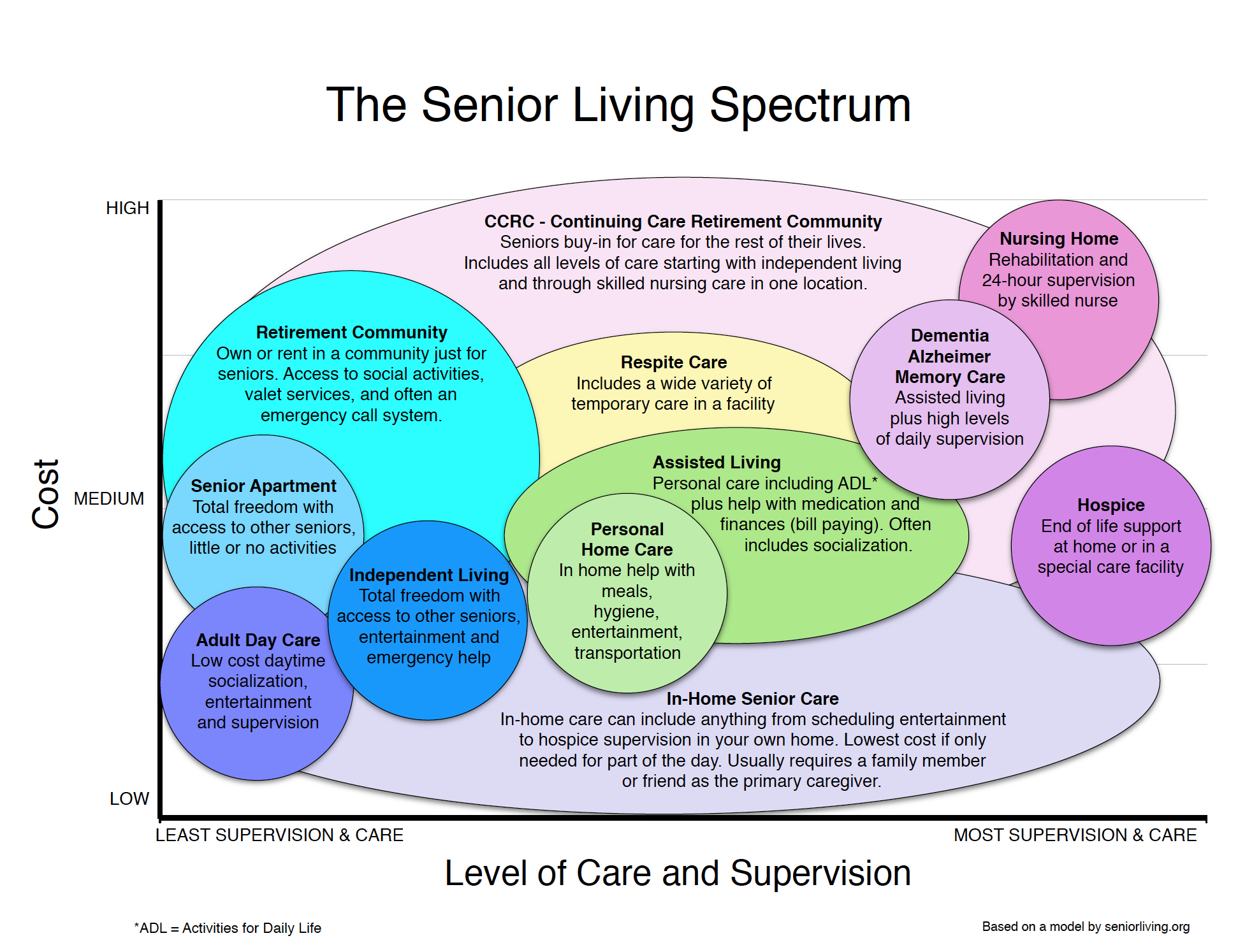 Adult Day Care

Definition: Adult day care is a non-residential facility that provides daytime supervision, socialization, and entertainment for anyone over the age of 18. In Iowa, adult day care is defined as an organized program designed to provide health, social and related support services to adults. Adult day cares are professionally staffed and are a group setting. In many cases, adult day care is used to relieve a primary caregiver of his or her duties.
Costs: The average cost of adult day care in Iowa is about $64 per day or $1,300 per month.

Senior Apartments

Definition: These are apartments specifically designed for seniors who do not require supervision, have total freedom, and desire to be among people in their own age group. They often have a limited amount of stairs and include in-unit laundry facilities. There are limited activities and very few additional services.
Costs: Rental fees range from $530-$1,145 per month.

Independent Living

Definition: For independent individuals and designed with the same advantages as senior apartments (no yard work or household repairs), but offer a number of services that enhance the quality of life for residents.These services typically include meals, transportation, housekeeping, laundry service, social and educational activities, a 24-hour emergency help call system and most often, access to additional care in case there is a health change. Room sizes will range from studios to two bedrooms.
Cost: There are 126 Independent Living Communities in Iowa with an average cost of $2,247 per month.

Retirement Community

Definition: A retirement community is a residential community or housing complex designed for older adults who are generally able to care for themselves; however, assistance from home care agencies is allowed in some communities, and activities and socialization opportunities are often provided.
Cost: There are 98 retirement communities in Iowa. The average cost of retirement communities in Iowa is $22,558 per year.

Continuing Care Retirement Community - CCRC

Definition: Retirement communities that provide a full continuum of care including independent living, assisted living, memory care, and skilled care. Adults must be capable of living on their own when they initially join a CCRC. To join, residents sign lifelong contracts that guarantee they will receive housing, services, and nursing care. A CCRC can be based on a rental property or a real estate purchase, depending on the specific community.
Cost: CCRCs tend to be expensive with monthly fee ranging from $400-$2,500. Some may require new residents to pay an initial fee that can range from $43,000-$400,000.

Respite care

Definition: Temporary institutional care for someone who is dependent, elderly, ill or handicapped. Typically, used for a short period of time to provide care and rest for the individual. Also designed to give caregivers rest. Respite care can be provided in a person's home as well as in a care facility. There are 393 respite care facilities in Iowa.
Cost: The average cost of respite care in Iowa is $61,685 per year, with costs ranging from $5,220 to $11,267 per month.
Personal Care at Home: Usually distinguished from medical care. Services are usually provided by someone who is not a nurse, doctor, or other licenses medical professional. Usually help is provided with meals, hygiene, entertainment, and transportation.

Assisted Living

Definition: Residents are usually independent and are given long-term personal care such as meals, medication management, financial assistance such as paying bills, bathing, dressing, transportation, and socialization. The most valuable thing that assisted living facilities offer is the safety and security of 24-hour support and access to care if needed.
Cost: Between $3,580-$5,300 per month.

Memory Care

Definition: Memory care is similar to assisted living, but is best suited for adults with progressive cognitive impairments. Such impairments include dementia and Alzheimer's disease and other memory problems. People sometimes use the terms dementia and Alzheimer's disease interchangeably. However, they are two distinct conditions.
Cost: Average is $61,685 per year with costs ranging from $3,600 to $7,700 per month Dementia: In order to receive the diagnosis of dementia one much display two core mental function impairments that are severe enough to interfere with daily living. Core mental functions include memory, language skills, ability to focus and pay attention, ability to reason and problem-solve, and visual perception. Alzheimer's Disease: Alzheimer's is a progressive disease that destroys memory. In Alzheimer's disease, the brain cells degenerate and die, causing a steady decline in memory and mental function. Alzheimer's disease is the most common cause of dementia.

Nursing Home

Definition: A nursing home can be public or private and provides a high level of long-term personal and nursing care for people who are unable to care for themselves. Skilled nurses and nurses aids are on hand 24 hours per day. A staff provides medical care, physical therapy, speech and occupational therapy.
Cost: $61,685 per year, with costs ranging from $3,600 to $7,770 per month

Hospice

Definition: Hospice provides end-of-life support in a persons home or a care facility. It is typically a team-oriented approach to expert medical care, medical equipment and supplies, pain management, and emotional and spiritual support expressly tailored to the patient's needs and wishes.
Cost: The cost of hospice is covered by most insurance plans, including Medicare and Medicaid.