Our Approach
No one can whistle a symphony. Successful projects are the result of a strategic team effort. We share a common goal with our senior living clients: meeting the social and physical needs of senior residents. For residents and their families, we strive to design environments that give a sense of belonging, independence, dignity, and security. For senior care owners and administrators, we strive to help you create environments that enrich the lives of residents. We help you look to the future and incorporate amenities appropriate to your residents' needs and desires, while preserving a residential character that moves away from an institutional feel.
Step One.
We start by listening. Your project deserves our full attention before a design solution can be offered. We know that good communication with our clients is the first step to finding the best solutions to design problems. We best serve your needs by listening.
Step Two.
Collaboration. The collaborative process and open dialogue gives your project the strength it needs to succeed. We recognize that our clients' involvement is essential and integral throughout the design process. By working together in partnership, we are able to find excellent design solutions that are within code and adhere to your budget and schedule constraints.
Step Three.
Design. Form follows function. The shape of your facility should be based on its intended function or purpose. After the project goals and requirements are determined, the design phase begins. This phase often produces a site plan, floor plans, sections, an elevation and other illustrative materials.
Step Four.
Implementation. Once your contractors have been selected and construction is under way, construction administration begins. We administer the construction phase to assure conformance with the design, visit the site during construction and address any issues that may arise.
Unity Clinic & Hospital, WPA - Muscatine, IA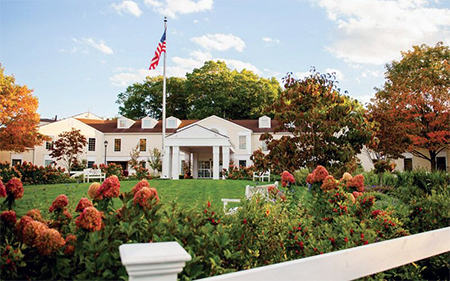 Essex Meadows, HLM - Essex, CT
Guthrie County Hospital, WPA - Guthrie Center, IA
Park Centre, WPA - Newton, IA