The Senior Living Spectrum
January 2018
The spectrum of care available to seniors can sometimes be confusing, leaving a person not knowing where to start. The outline below breaks down and defines the available options and ranges from adult day care to hospice. Understanding the terminology used for various types of care will help you make an informed decision.
Nursing facilities and assisted living facilities are considered "I" Occupancy (Insititutional Occupancy) buildings and are required, by the state of Iowa, to have architectural design drawings signed and sealed by a licensed Iowa architect.
Average costs listed below are for the state of Iowa and can be influenced by a number of variables. There are multiple resources available to assist you in finding the appropriate level of care. Sources for additional information are listed below the outline.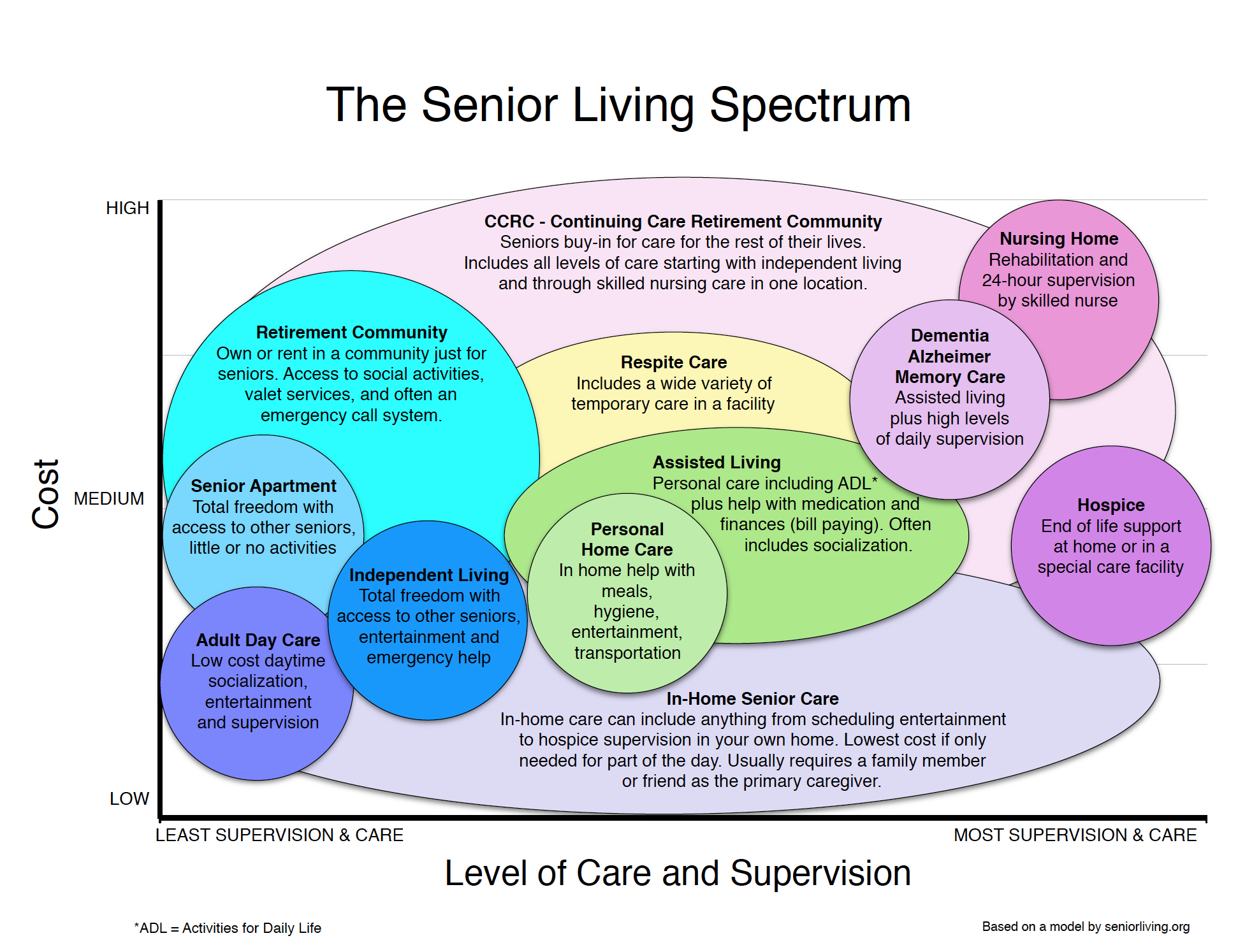 Adult Day Care

Definition: Adult day care is a non-residential facility that provides daytime supervision, socialization, and entertainment for anyone over the age of 18. In Iowa, adult day care is defined as an organized program designed to provide health, social and related support services to adults. Adult day cares are professionally staffed and are a group setting. In many cases, adult day care is used to relieve a primary caregiver of his or her duties.
Costs: The average cost of adult day care in Iowa is about $64 per day or $1,300 per month.

Senior Apartments

Definition: These are apartments specifically designed for seniors who do not require supervision, have total freedom, and desire to be among people in their own age group. They often have a limited amount of stairs and include in-unit laundry facilities. There are limited activities and very few additional services.
Costs: Rental fees range from $530-$1,145 per month.

Independent Living

Definition: For independent individuals and designed with the same advantages as senior apartments (no yard work or household repairs), but offer a number of services that enhance the quality of life for residents.These services typically include meals, transportation, housekeeping, laundry service, social and educational activities, a 24-hour emergency help call system and most often, access to additional care in case there is a health change. Room sizes will range from studios to two bedrooms.
Cost: There are 126 Independent Living Communities in Iowa with an average cost of $2,247 per month.

Retirement Community

Definition: A retirement community is a residential community or housing complex designed for older adults who are generally able to care for themselves; however, assistance from home care agencies is allowed in some communities, and activities and socialization opportunities are often provided.
Cost: There are 98 retirement communities in Iowa. The average cost of retirement communities in Iowa is $22,558 per year.

Continuing Care Retirement Community - CCRC

Definition: Retirement communities that provide a full continuum of care including independent living, assisted living, memory care, and skilled care. Adults must be capable of living on their own when they initially join a CCRC. To join, residents sign lifelong contracts that guarantee they will receive housing, services, and nursing care. A CCRC can be based on a rental property or a real estate purchase, depending on the specific community.
Cost: CCRCs tend to be expensive with monthly fee ranging from $400-$2,500. Some may require new residents to pay an initial fee that can range from $43,000-$400,000.

Respite care

Definition: Temporary institutional care for someone who is dependent, elderly, ill or handicapped. Typically, used for a short period of time to provide care and rest for the individual. Also designed to give caregivers rest. Respite care can be provided in a person's home as well as in a care facility. There are 393 respite care facilities in Iowa.
Cost: The average cost of respite care in Iowa is $61,685 per year, with costs ranging from $5,220 to $11,267 per month.
Personal Care at Home: Usually distinguished from medical care. Services are usually provided by someone who is not a nurse, doctor, or other licenses medical professional. Usually help is provided with meals, hygiene, entertainment, and transportation.

Assisted Living

Definition: Residents are usually independent and are given long-term personal care such as meals, medication management, financial assistance such as paying bills, bathing, dressing, transportation, and socialization. The most valuable thing that assisted living facilities offer is the safety and security of 24-hour support and access to care if needed.
Cost: Between $3,580-$5,300 per month.

Memory Care

Definition: Memory care is similar to assisted living, but is best suited for adults with progressive cognitive impairments. Such impairments include dementia and Alzheimer's disease and other memory problems. People sometimes use the terms dementia and Alzheimer's disease interchangeably. However, they are two distinct conditions.
Cost: Average is $61,685 per year with costs ranging from $3,600 to $7,700 per month Dementia: In order to receive the diagnosis of dementia one much display two core mental function impairments that are severe enough to interfere with daily living. Core mental functions include memory, language skills, ability to focus and pay attention, ability to reason and problem-solve, and visual perception. Alzheimer's Disease: Alzheimer's is a progressive disease that destroys memory. In Alzheimer's disease, the brain cells degenerate and die, causing a steady decline in memory and mental function. Alzheimer's disease is the most common cause of dementia.

Nursing Home

Definition: A nursing home can be public or private and provides a high level of long-term personal and nursing care for people who are unable to care for themselves. Skilled nurses and nurses aids are on hand 24 hours per day. A staff provides medical care, physical therapy, speech and occupational therapy.
Cost: $61,685 per year, with costs ranging from $3,600 to $7,770 per month

Hospice

Definition: Hospice provides end-of-life support in a persons home or a care facility. It is typically a team-oriented approach to expert medical care, medical equipment and supplies, pain management, and emotional and spiritual support expressly tailored to the patient's needs and wishes.
Cost: The cost of hospice is covered by most insurance plans, including Medicare and Medicaid.